Welcome to Château Haut de Lerm.
We welcome you all year long, even groups up to 40 people.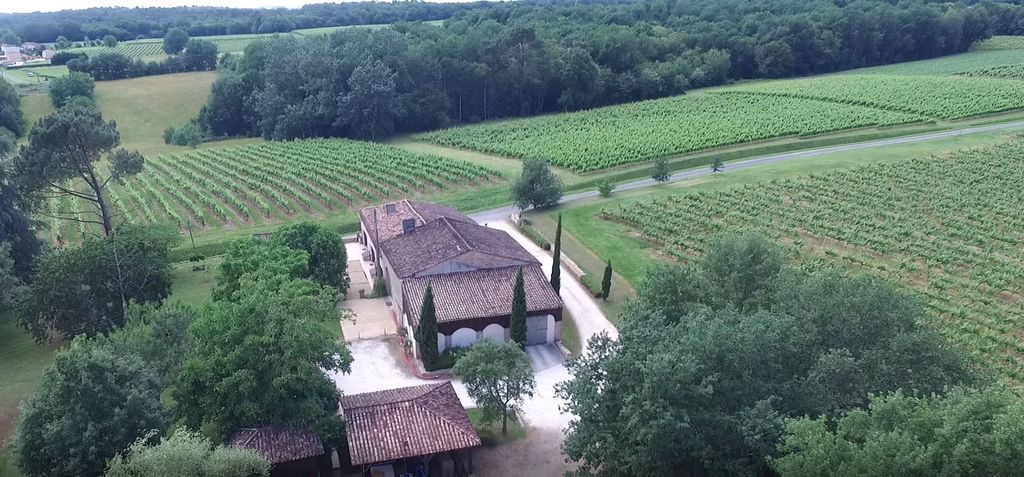 Individual visit
During the one hour guided visit, we will show you grape varieties in the vineyards, and we will explain the land and the ground work. Then, we will visit the wine storehouse and will explain the vinification. We will end the visit by the Château wine tasting, the explanations of the wine labels and of the different Bordeaux appellations…
Tastings and guided visits are free.
Children are welcome, a drawing area is provided.
Opening hours : from 10 am to 12 am, Monday to Friday, all year long. Outside these periods, call ahead at +33 (0)6 86 89 60 93.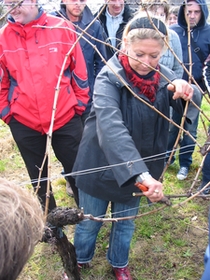 Group visit
We propose you 4 visits and degustations formulas, Monday to Friday. Booking is required (please call +33 (0)6 86 89 60 93).
1 – « Panier pique-nique Bienvenue à la Ferme »
For the groups (minimum required 12 people), we propose a « Panier pique-nique Bienvenue à la Ferme » for 13 euros per person.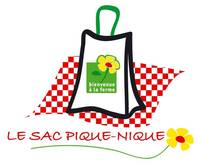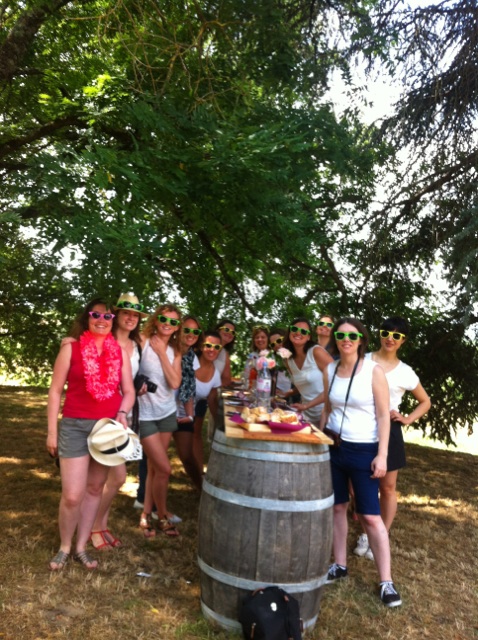 Sample basket for 4 people includes :
Duck pâté,
Magret of duck filled with foie gras,
Gazpacho or vegetables asparagus,
Goat or sheep cheese,
Gingerbread with fruits,
A bottle of wine from the property,
A bottle of water, bread,
Aperitif and coffee are offered.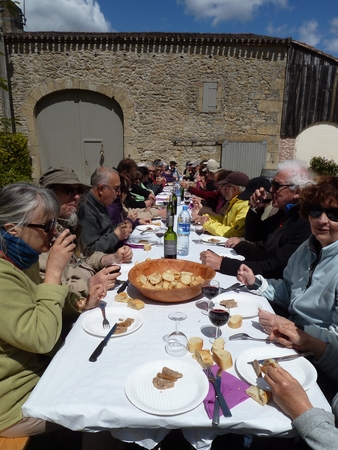 2 – Special morning discovery visits
From 12 people on, we propose discovery morning visits on the winemaking property (how to prune vines, what the cellar blend is …). Book the morning from 9 to 12 for 20 euros per person, feel free to stay and have lunch on the property and taste our « Panier pique-nique Bienvenue à la Ferme » for an added 13 euros per person .
3 – Tasting initiation
Groups from 5 to 15 persons may come and learn how to taste our wines. Emmanuel Latorre, oenologist, will initiate you for one hour and a half or two hours in the morning for 20 euros a person. You will be welcome to stay and enjoy our « Panier pique-nique Bienvenue à la Ferme » for an added 13 euros per person .
4 – "Vis ma vigne" experience
Groups up to 8 people can participate in the "Vis ma vigne" experience, which consists in joining us from 9 am to 2 pm in our daily tasks, whether in the vineyard or in the cellar. This work experience will be followed by a shared « Panier pique-nique Bienvenue à la Ferme », for the sum of 35 euros per person (all included).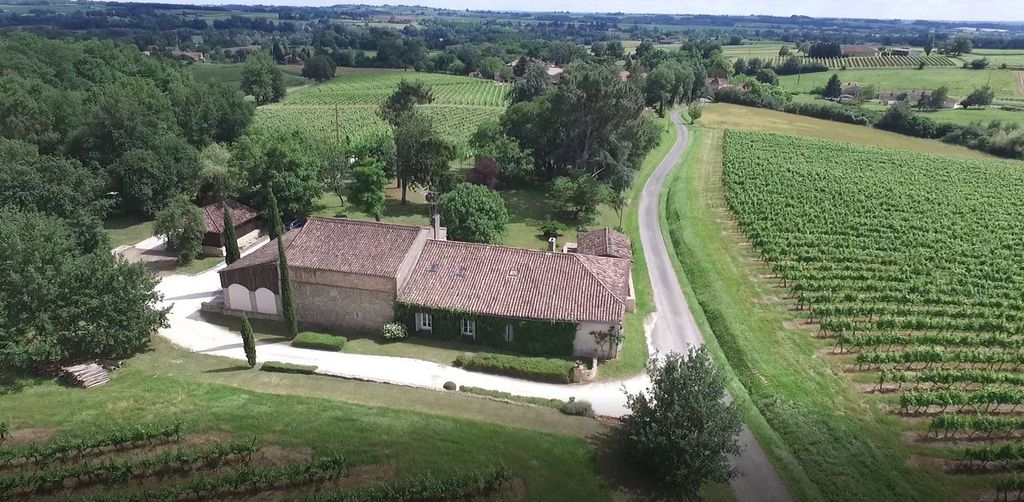 Visit or share your opinion
Press reviews
« …Niché entre la Dordogne et la Garonne, l'Entre-Deux-Mers abrite un des plus beaux vignobles du pays. Les deux sœurs Valérie et Christelle Gonthier, viticultrices, produisent par exemple du vin depuis quatre générations dans le village de Saint Martin de Lerm, en Gironde. Elles proposent un vin rouge très caractéristique, fruité et épicé. Une passion que les sœurs Gonthier adorent partager avec les touristes….» JT de TF1 – 7 septembre 2018
« …14 ans de fidélité aux marchés à la ferme. Nos clients sont heureux de déguster des produits du terroir et d'échanger avec les producteurs…» Sud-Ouest – 21 août 2018
« …Au Château Haut de Lerm dans l'Entre-Deux-Mers, découvrez un vin rosé ou rouge fait par deux soeurs comme le précise l'étiquette, simplicité et excellent rapport qualité/prix…» Femme Actuelle – 16 août 2018
« …Elles se sont aussi démarquées du classicisme bordelais en produisant des vins alliant l'audace et l'authenticité. Bref, des produits qui leur collent à la peau…» Sud-Ouest – 2 septembre 2017
« …Depuis, grâce aux travaux entrepris, les labels pour la protection de l'environnement se multiplient pour récompenser les actions en faveur de la biodiversité et d'équilibre dans la nature, ainsi que la plantation d'arbres et de haies….» Le Républicain – 11 août 2017
« …Les deux sœurs sont littéralement intarissables lorsque l'on aborde le sujet. L'essence de cet enthousiasme tient très certainement au fait qu'elles non pas repris les rênes de la propriété de leurs grands-parents par défaut, mais au contraire par envie…» Sud-Ouest – 3 septembre 2016
« …C'est un moment privilégié pour rencontrer de vrais agriculteurs respectueux de l'environnement et de leurs clients, déguster et acheter leurs produits…» Le Républicain – 27 août 2015
« …Elles expliquent pourquoi les vendanges se font à l'aube et détaillent les différents cycles de vinification. Dans la salle de dégustation, elles font goûter les millésimes 2010 et 2011, appellation Bordeaux, tout en aidant à se repérer dans la lecture des étiquettes et les différentes appellations du Bordelais…» Sud-Ouest – 12 avril 2014
« …Une sorte d'immersion dans le monde des Bordeaux en compagnie de deux agréables viticultrices … » « …le temps semble s'être arrêté quand on a poussé la porte de la propriété… » Sud-Ouest 9 février 2013
« …they have produced an enjoyable wine in the vintage, with good plump attack… » DECANTER – novembre 2012
« …Ce vin atypique pour la région, dans lequel la structure et la force du cabernet sauvignon prennent l'ascendant…» Terre de vins – juin 2011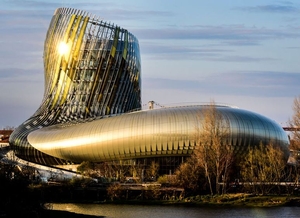 La Cité du Vin, in Bordeaux, opened its doors on June 1st, 2016. If you wish, you can locally book a visit to the Château Haut de Lerm from computer terminals available to you.
To visit this site, you must be of legal age to consume alcohol in your country of residence. Alcohol abuse is dangerous for health, consume in moderation.